After watching commercials on Bulletproof coffee and Tim Ferris's version with tea, we decided to give it a try and experiment with different ingredients. I wasn't sure what adding butter to tea would taste like, I was pleasantly surprised.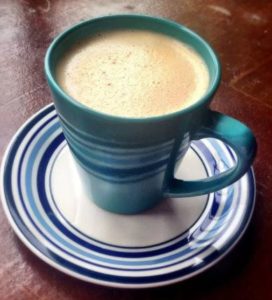 TEA:
3/4 cup – Hot Water
1 tsp – Ghee Butter with Himalayan salt or Grass fed butter
1 tsp – Coconut oil (Or MCT oil)
2 tsp – Cacao
1/4 tsp – Thai/green tea powder
2 Twists of Himalayan salt
1 tsp – honey
1 pinch – Cayenne Pepper
3 pinches -Ceylon Cinnamon
6 drops – Stevia
2 tsp – milk
What is Cacao?
Cacao is the purest form of chocolate you can consume, it is raw and much less processed than cocoa powder. Cacao is thought to be the highest source of antioxidants of all foods and the highest source of magnesium of all foods.
Boil water (Heat about 2 minutes in microwave).
Measure Cacao and powdered tea into a mug.
Add the hot water and stir until dissolved.
Add the ghee/butter and coconut oil and stir until melted.
Add Himalayan salt and stir until dissolved.
Add honey and mix.
Add pinches of cinnamon and cayenne pepper.
Add 6 drops of stevia for taste.
Pour into mason jar and shake. Or, you can use a blender or battery operated milk frothier to help blend.
Add in milk and shake again.
Pour into mug and drink.
Occasionally stir if you're drinking it slowly to keep the oils from separating out.